Mediterranean Allied Photo Reconnaissance Wing (MAPRW)
Scope and Contents: 150,000 original Royal Air Force (RAF) / South African Air Force (SAAF) / United States Army Air Force (USAAF) vertical and oblique aerial reconnaissance prints mostly covering locations in the Mediterranean region during the Second World War (1939-1945), and associated paper sortie plots.
Conditions Governing Access:  Open. All MAPRW finding aids are accessible on the NCAP website and can be examined in detail with a subscription. Also accessible via Search Room and Paid Search service. 
The Mediterranean Allied Photo Reconnaissance Wing (MAPRW) was the reconnaissance and intelligence arm of the Mediterranean Allied Air Forces during the latter stages of the Second World War. It evolved from earlier Allied organisations, such as No.2 Photographic Reconnaissance Unit and the North African Photographic Reconnaissance Wing (NAPRW), as Allied forces advanced northwards, across the Mediterranean Sea, into Italy.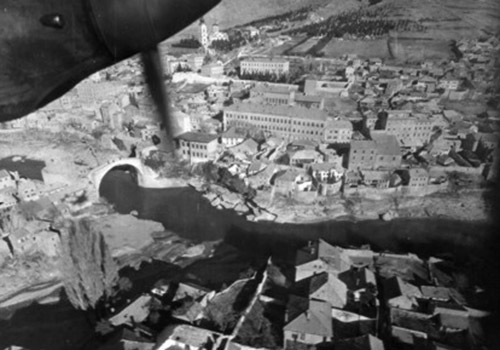 Operating from bases in North Africa and Italy, photographic reconnaissance squadrons from the United States Army Air Force, Royal Air Force and South African Air Force took aerial photography of targets throughout the Mediterranean theatre, southern and eastern Europe, for subsequent analysis by photographic interpreters at MAPRW. Imagery was also collected to provide a basis for cartography of enemy-occupied territory.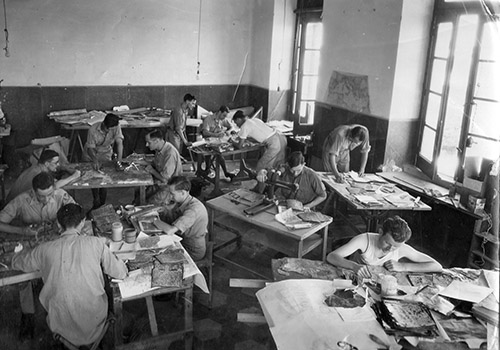 After the Second World War much of the print library was transferred to the British School at Rome. Some years later, it was held by the Pitt Rivers Museum at the University of Oxford before the eventual transfer of all 150,000 prints to Keele University in the early 1980s. 
The coverage of the MAPRW Collection is shown on the map below. Over 400 images and all of the finding aids from the MAPRW Collection have been digitised and are accessible on this website. View online MAPRW images.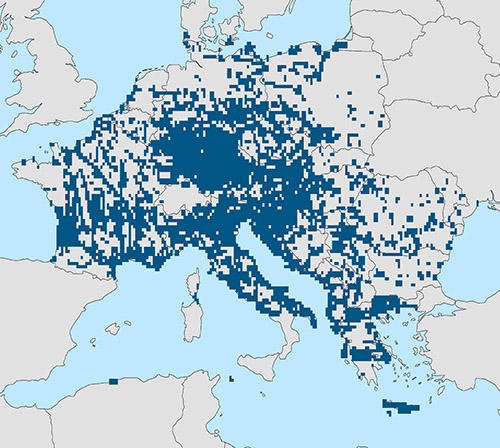 Through North Africa and Italy
The RAF Photographic Section of the North African Photographic Reconnaissance Wing (NAPRW), pictured at La Petit Seminaire de La Marsa, Tunisia, in 1943.
Following the Allied invasion of Italy, the unit moved all of its equipment across the Mediterranean in November 1943. Ground elements of the unit were transported from Tunisia in amphibious assault ships known as LST's (Landing Ship, Tank).

As they followed the Allied advance northwards through Italy, the unit lived and worked in tents. Conditions during winter months were testing for personnel and equipment.

 

Early in 1944, NAPRW was re-named, following a complete reorganisation of the Allied air component in the Mediterranean theatre of operations. Henceforth it would be known as the Mediterranean Allied Photographic Reconnaissance Wing (MAPRW).

During the summer months in southern Italy, the intense heat could cause discomfort for personnel and a shortage of water for film processing. In this image, two airmen are pumping streamwater through a filter, into a camouflaged processing tent.
The heat inside working spaces could be intense. Airmen were permitted to take a more relaxed approach to uniform, in order to continue working. In this image, two airmen are washing photographic prints.
Working inside a camouflaged tent, in this image airmen can be seen processing film and prints for distribution to photographic interpreters.
Magazines of film were removed from photographic reconnaissance aircraft on returning from a mission, and rushed to the photographic section. This processing truck was probably positioned adjacent to an aircraft dispersal at San Severo airfield, north of Foggia.
Food shortages were common in southern Italy during the Second World War, and airmen were on occasion able to share provisions with local inhabitants. This image shows food being prepared for distribution to a gathering crowd. One of the boys in the crowd seems less than pleased at the Allies presence; he can be seen on the right of the image making an offensive gesture to the camera.

When granted leave, airmen were able to explore cities such as Rome, Naples and Venice. One non-military event recorded by reconnaissance pilots in 1944 was the volcanic eruption of Vesuvius, near Naples.

 

Pictured on the left of this image is Lieutenant Colonel Elliot Roosevelt, commanding officer of the US 3rd Photographic Group. As the son of the serving US President, he was a high-profile member of NAPRW.