Mediterranean Allied Photo Reconnaissance Wing (MAPRW)
Conditions Governing Access:  Open. Accessible via Search Room, Website and Paid Search service. All finding aids are available on the NCAP website.
The Mediterranean Allied Photo Reconnaissance Wing (MAPRW) was the reconnaissance and intelligence arm of the Mediterranean Allied Air Forces during the latter stages of the Second World War. It evolved from earlier Allied organisations, such as No.2 Photographic Reconnaissance Unit and the North Africa Photo Reconnaissance Wing, as Allied forces advanced northwards, across the Mediterannean Sea, into Italy.
Operating from bases in North Africa and Italy, photographic reconnaissance squadrons from the United States Army Air Force, Royal Air Force and South African Air Force took aerial photography of targets throughout the Mediterranean theatre, southern and eastern Europe, for subsequent analysis by photographic interpreters at MAPRW. Imagery was also collected to provide a basis for cartography of enemy-occupied territory.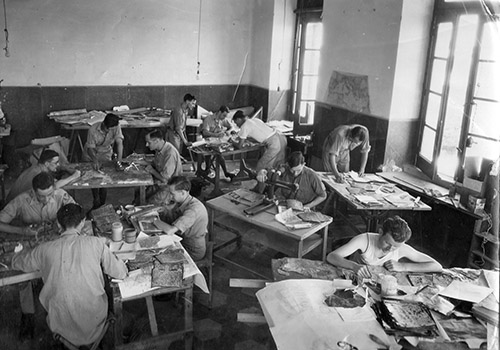 After the Second World War much of the print library was transferred to the British School at Rome. Some years later, it was held by the Pitt Rivers Museum at the University of Oxford before the eventual transfer of all 150,000 prints to Keele University in the early 1980s. 
The coverage of the MAPRW Collection is shown on the map below. Over 400 images and all of the finding aids from the MAPRW Collection are accessible on this website. View online MAPRW images.