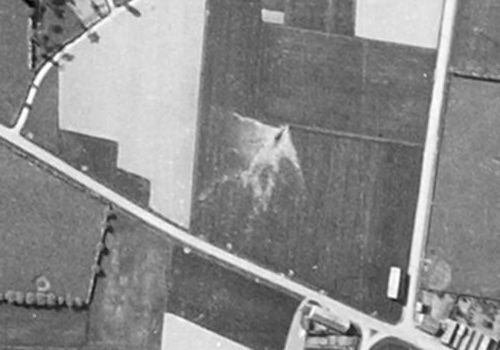 NCAP holds aerial photography of places around the world, taken during the Second World War and Cold War. This photography was taken for military reconnaissance and mapping purposes. Each photograph is a snapshot of the ground conditions at a known date and time. Sometimes, places were photographed several times a day, or on consecutive days. This means that the collection can be used to search for evidence of events that took place at known locations on specific dates.
In the USA, the Defense POW/MIA Accounting Agency (DPAA) uses aerial photography from NCAP to help in their work to locate lost airmen. In 2016, a joint team from DPAA and the University of Wisconsin-Madison travelled to northern France to find the crash site of a P-47 Thunderbolt fighter aircraft.  They spent three weeks searching for the wreckage of the aircraft, which had crashed on 27 May 1944. An initial search for the site, based on local eye-witness reports, failed to locate the aircraft.
The team then sourced an image from the NCAP website, taken two days after the crash, on 29 May 1944. This was the key resource which enabled them to precisely locate the aircraft impact point on modern mapping. On excavating the site, they successfully recovered parts of the aircraft along with human remains. Following forensic and DNA analysis, the remains were identified as those of the pilot, Lt Frank Fazekas.
Links
University of Wisconsin-Madison - UW search team finds downed WWII plane - 9 November 2016
NCAP - Missing pilot found - 1 December 2016
Defense POW/MIA Accounting Agency - Airman killed during World War II accounted for (Fazekas) - 16 August 2017
Times of Israel - 74 years later a pilot who crashed in France returns home - 27 March 2018
American Air Museum - Frank A Fazekas