NATO Exercise CARTE BLANCHE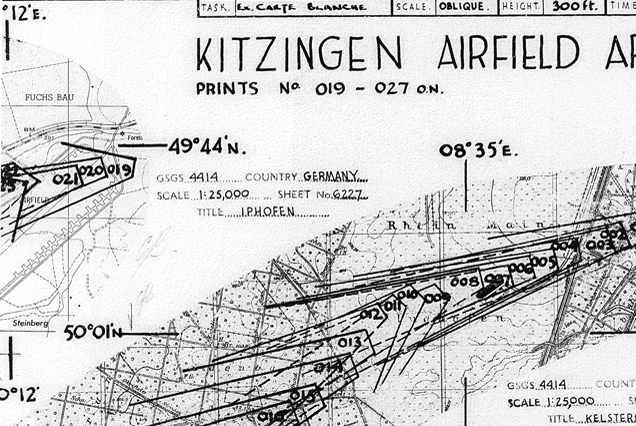 In the last week of June 1955, around 3000 NATO aircraft from Canada, Denmark, Greece, France, Norway, the UK and USA took part in the largest allied exercise held since the Second World War. Code-named CARTE BLANCHE, the exercise was held in West Germany and included the simulated use of tactical nuclear weapons against airfields and troop concentrations.
In just two days the delivery of 300 atomic bombs had been simulated by tactical aircraft, which would have caused an estimated 4.5 million civilian casualties. The result of the exercise made it clear that the use of battlefield nuclear weapons would render any supporting military operations meaningless.
During CARTE BLANCHE, photographic reconnaissance aircraft flew many low-level missions to detect the locations of 'enemy' forces. On the opening day of the exercise, 23 June 1955, sortie 541/3017 was flown from RAF Wildenrath by a Gloster Meteor PR10 aircraft of 541 Squadron. It covered Kitzingen and Rhein-Main airfields and brought back photography of US vehicles, armour and transport aircraft. A selection of forward-facing oblique frames from the mission appear in this feature.
Frankfurt Rhein-Main Airfield
| | |
| --- | --- |
| On the first day of Exercise CARTE BLANCHE, Gloster Meteor VS985, piloted by Flight Lieutenant Meyer approached Rhein-Main airfield at 300 feet and captured imagery of over 90 military trucks and ambulances parked in rows adjacent to the airfield entrance. | |
| | |
| --- | --- |
| During the Cold War, Rhein-Main airfield was the primary entry-point to Europe for US service personnel and was a major hub for military transport aircraft. The images from this sortie show a number of aircraft types parked on the aprons and taxiways, including C-47 Skytrain and C-119 Flying Boxcar aircraft. | |
| | |
| --- | --- |
| An unusual addition to a line-up of transport aircraft are the HU-16 Albatross flying-boats visible in this image. Normally used for air-sea rescue operations, these aircraft were used to bolster the transport fleet during the exercise. | |
Kitzingen Airfield
| | |
| --- | --- |
| A former Luftwaffe airfield, Kitzingen became home to armoured units of the US Army during the Cold War. Passing over this location, Flight Lieutenant Meyer photographed elements of a US armoured brigade equipped with M-47 tanks parked with their turrets reversed, on former aircraft hardstandings. | |
Würzburg
| | |
| --- | --- |
| On his way back to base at RAF Wildenrath, Flight Lieutenant Meyer took photographs of two famous German castles, including Marienberg Fortress at Würzburg. | |
Drachenfels
| | |
| --- | --- |
| The 12th century castle on Drachenfels, or 'Dragon's Rock', commands the Rhine valley south of Bonn. Flight Lieutenant Meyer took this photograph on the inbound leg of his mission, with only 90 kilometers to go to his base at Wildenrath. On his return, the film would have been quickly removed from the aircraft and rushed to the Reconnaissance Intelligence Centre for rapid processing. Photographic interpreters would have analysed the negative film and produced reports on 'enemy' activity within 45 minutes."> | |
Part of the Photographic Section processing report appears below.