All of our catalogued finding aids to Second World War aerial photography of Europe are accessible on our website. These documents record the geographical coverage of thousands of aerial reconnaissance missions. They allow researchers to discover millions of not-yet-digitised aerial photographs. For the Mediterranean Theatre, these finding aids comprise pilot's traces, interrogation reports and trace overlays known as 'Banda plots'.  
Pilot's Traces
To aid the photographic interpretation of the aerial photographs collected during a mission, intelligence was gathered from aircrew. The pilot or navigator was given a piece of tracing paper to chart their flight track during their mission. They would also use this to indicate where photography had been taken. This is called a 'pilot's trace' and was subsequently used by staff in the Plotting Section to help them to identify the locations covered in the photographs. 
Pilot's traces used red pencil to show where photographs were taken and blue or black to show the flight track. This example was made by Flying Officer Webb and Flight Sergeant Smith on a mission covering locations in northern Germany and Poland on 2nd September 1944. While pilot's traces can be used to see what areas were covered during a mission, individual photograph numbers are not recorded.

Some pilots provided topographical detail on their traces to make the plotter's job easier. This example, made by Flying Officer Strantzen of 682 Squadron, on a mission to Trieste and Croatia on 7th July 1944, clearly shows the coastline and railway tracks. The coordinates and place names are stated, along with the briefing number for the targets. 

 

 

This trace, made by Lieutenant Ellison of the 15th Photographic Reconnaissance Squadron, USAAF, on 26 March 1945, during a mission to Karlovec, Celje and Maribor, shows the heavy folds visible on most pilot's traces in the NCAP collection. The aircrew were provided with a roughly cut piece of tracing paper to lay over their navigation maps, which they would then repeatedly fold to fit inside a leg pocket. 
During a mission, the pilot had to manoeuvre the aircraft into position in order to collect photography of the target in as few frames as possible. This example, made by Flying Officer Butler, of 683 Squadron, on the 5th April 1945 over Sarajevo and Zenica, shows the looping flight path required to complete the mission. The arrows show the direction of travel and the dark lines appear to indicate a railway line.
Interrogation Reports 
An interrogation report was compiled by an intelligence officer by interviewing the pilot or navigator after the mission was complete. This recorded information on the course of the mission, any additional photography of targets of opportunity and noted anything of intelligence value that may have been seen. If the pilot had been unable to reach all of the intelligence targets they had been briefed on, the interrogation report provided details of any problems they had encountered and of the photography they had managed to take.
Some interrogation reports show how dangerous reconnaissance flights could be. This example details one B-25 crew's experience of encountering enemy fire during a mission to Split, Croatia, on 1st April 1944.

Midway through a mission to Avignon on 19 August 1944, Lieutenant Bates of the 5th Combat Mapping Squadron, USAAF, experienced engine trouble. He carried on and was able to complete his mission, returning to base on one engine.

During Flying Officer Strantzen's mission on 7th July 1944, he photographed two vessels near Trieste. His photographic target in Trieste was the oil refinery, clearly marked on his trace, shown above; the loop around Trieste shows where he spotted the vessels and altered course to photograph them.

Reconnaissance pilots were trained to always photograph such targets of opportunity during a mission.

 

Lieutenant Moore, of the 15th Photographic Reconnaissance Squadron, USAAF, had a difficult first mission. Detailed to cover Zagreb on 22nd March 1945, he did not reach any of his briefed targets, but returned to base with photography of Ljubljana instead. His name appears again on later plots so he obviously learned from his experience.

 
Banda Plotting
Once a photographic reconnaissance aircraft had returned from a mission, the films were immediately removed from the cameras and sent for processing. Several sets of contact prints would be made and distributed to Photographic Interpreters (PI's). In order to assist the PI's to find their intelligence targets on the contact prints, using the information gathered from the aircrew and the photography, staff in the Plotting Section would carefully annotate maps and trace overlays with the exact geographic locations covered during the mission. 
In the Mediterranean Theatre, the majority of missions were recorded on trace overlays, which could be placed onto military base maps produced by the Geographic Section General Staff (GSGS). Copies of these overlays were known as 'Banda plots', after the machine they were made on, shown below. The Banda machine (or Ditto machine in the USA) was a spirit-duplicator and was used to create multiple copies of a plot.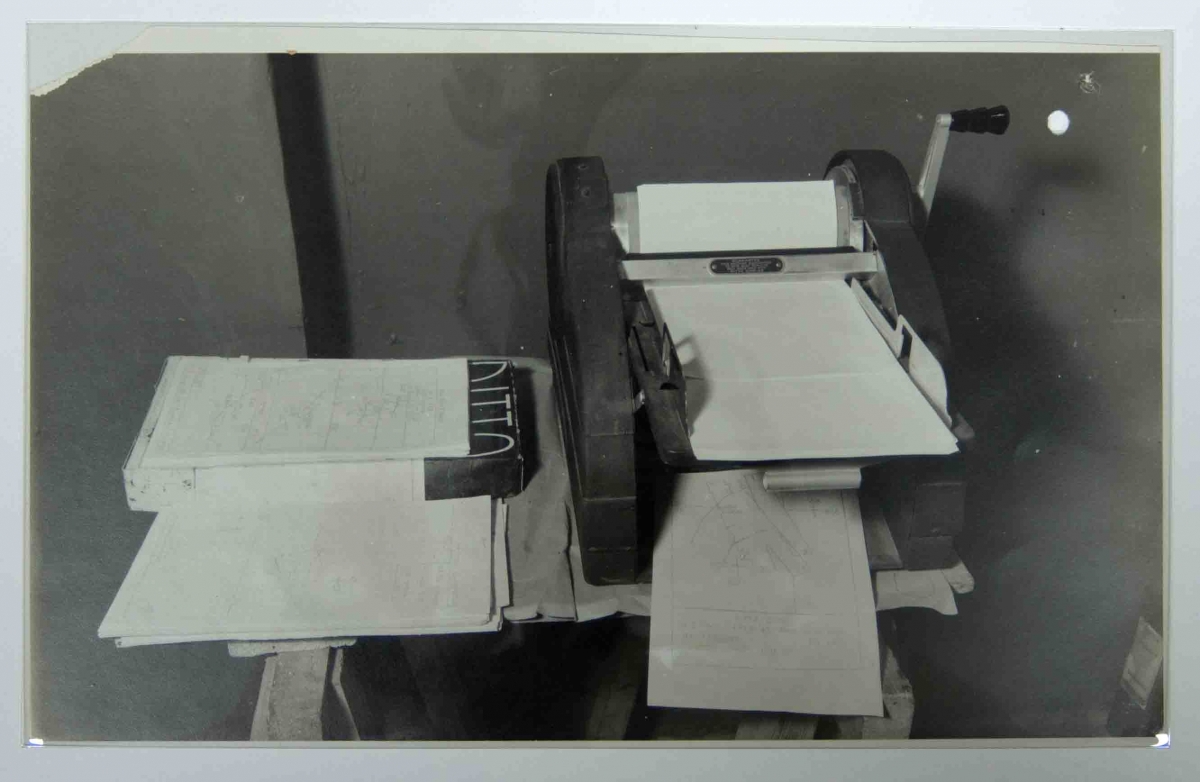 Some of the Banda plots include notes and instructions for PI's using the plots. This example shows the Bomb Line on the 29th June 1944, the date of plotting, beyond which it was safe to bomb and avoid hitting front line Allied troops.

To the north of this can be seen the photo runs made during the mission, with photo numbers recorded at the end of each strip.

As well as recording key information about a mission, some plotters expressed their artistic side by drawing ornate symbols on the plots. This elaborate compass symbol appears on several ACIU Banda plots.
Other plotters used their artistic talents to amuse themselves by making annotations such as this fish to denote the area of water on the plot.

And some plotters just lost patience with the whole process and started again. The note on this plot states:

 

The original of this plot is a hopeless entanglement. So this copy is a simplified version with only the figures on it which are legible on the master plot