Paid Search Service - Geographical information required before we can undertake a Paid Search on your behalf
The National Collection of Aerial Photography (NCAP) offers a Paid Search service of its catalogued archives. Searches by our staff working on your behalf cost £90.00 (+ VAT) per 60 minutes work, leading to the delivery of a Search Report. Search Reports are delivered within 15 working days. To view a sample Search Report, please click here.
One of the biggest challenges in searching for aerial imagery is that places have changed, often quite dramatically, since the images were created. At NCAP, imagery is searched by geographical co-ordinates and date. It is therefore essential that customers clearly show the exact location they want imagery of. 
The geographical location being searched for is called the Area of Interest (AOI). An AOI can be any shape or size. As detailed below, we accept AOI geographical information as either a digital polygon or as lines drawn on a digital map. For more complex enquiries Geographical Information System (GIS) shapefile data is accepted.
Submitting 
AOI geographical information as a 

Digital Polygon

 

You may create a digital polygon (or path) that shows an AOI boundary using online virtual globes including:

Google Earth – Draw a polygon and create a kml/kmz file

Bing Maps – Search for a place, mark an area on the map, save it and then export it as a kml file

Kml/kmz files hold detailed geographical information which allows our staff to precisely locate your AOI on the earth's surface.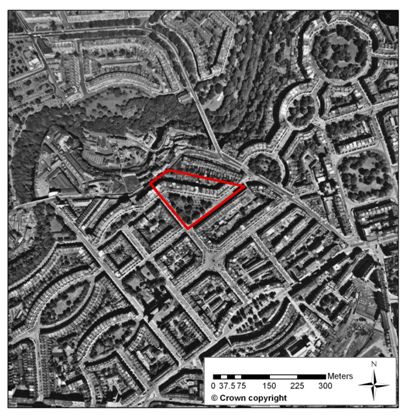 Submitting 

AOI geographical information using a Digital Map
As an alternative to a digital polygon, you may send modern maps in digital format, that have been marked-up with your AOI. An Overview and Detailed map are always required.
An Overview Map should place an AOI in context. It should identify the relevant: Country; Region; Place; and Key natural features.
A Detailed Map should exactly locate an AOI. It should identify local: Place names; Street names; and Key natural features. 
| | |
| --- | --- |
| OVERVIEW | DETAILED |
Please send your request using the NCAP Paid Search request form, which includes a file upload facility for your AOI. Please only submit one AOI per enquiry.
Our Response
After submitting your enquiry using the NCAP Paid Search request form, you will receive a response within 2 working days. The response will be:
1. Quotation to undertake a search:
If our catalogue indicated the existence of imagery in the region during the time-period of interest, we will send a quotation for our search fee. Once you have accepted the licence terms and payment is received, the search is completed within 15 working days.  
2. Please supply more information:
As detailed above, we cannot provide a quotation for a Paid Search without detailed geographical / date information. 
3. No catalogued imagery available for the Country / Region / time period specified:
Although NCAP staff make every effort when searching, we cannot guarantee to find imagery of an AOI during the time period of interest. It should also be noted that the quality of imagery available is dependent on the weather and combat conditions prevailing at the time. 

Did you know that you can purchase digital images online?
Simply locate your image and click "buy". Images ordered for personal-use can be accessed immediately after payment.