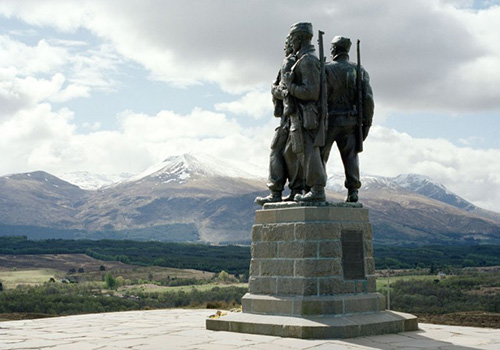 During the Second World War, remote locations in western Scotland were chosen to serve as training areas for Allied units engaged in irregular warfare. A number of country houses and lodges in the Lochaber area were requisitioned in order to accommodate small teams of men and women selected to serve as agents in the Special Operations Executive (SOE). The remote location and mountainous terrain was also found to be ideal for training a new military unit, to be known as the commandos, for operations against the enemy-occupied coastline of Europe. Both organisations trained their personnel to be tough, self-reliant individuals, who could operate without support for extended periods.
Inverailort House

 

Inverailort was requisitioned by the War Ministry in 1940, to serve as a Special Training Centre for those selected to serve in irregular warfare units. The techniques of sabotage, demolition, unarmed combat and fieldcraft were taught here by experts in their respective fields. The site was handed over to the Royal Navy in 1942, when it became an officers training school known as HMS Lochailort.

 

This area was chosen for irregular warfare training for a number of reasons. It was remote, with rough terrain which would present trainees with a strenuous, physical challenge. There was only one road into the area, making it easy to control access but there was also a good rail link to the south, allowing transport of trainees and equipment to and from the area. The whole area was designated a controlled zone and the sparsely-distributed resident population required passes to move around.

 

 
Arisaig House

 

By the end of 1940, Arisaig House was a training centre for SOE operatives, who came here to learn the use of explosives to sabotage targets such as railways and fuel depots. They were also taught the arts of camouflage, Morse-code telegraphy and the use of special weapons. SOE was one of the very few departments in which women were employed in an active service role. SOE agents were expected to operate in occupied countries for extended periods of time, conducting covert, non-direct warfare operations such as sabotage, espionage and the co-ordination of local resistance groups.

 
Achnacarry House

 

Achnacarry is synonymous with the commandos, after serving as the main commando depot for candidates from the UK, USA, France, Norway, Poland, Czechoslovakia, the Netherlands  and Belgium from 1942 to 1945. The commandos were formed on the orders of Winston Churchill to carry out raids on enemy-held facilities along the coastline of occupied Europe. Commando training involved prolonged exercises in the surrounding mountains, with troops carrying all of their weapons and equipment and operating away from base for days at at time. Troops were trained in the techniques of amphibious assault, demolition, unarmed combat and the operation of enemy weapons.

 
Inveraray 

 

As the demand for commando operations increased, so the organisation increased in size. Training camps were established in other areas of Scotland, such as this one in the grounds of Inveraray Castle on 3 June 1941. Eventually, four brigades and numerous smaller units of commandos were formed to provide the spearhead of the Allies return to mainland Europe on 6 June 1944.

 
HMS Dinosaur

 

This Landing Ship Tank (LST) was photographed after disembarking armoured vehicles and towed artillery pieces onto an Ayrshire beach, on 12 March 1945. Several military formations were based in Ayrshire and the Clyde estuary during the Second World War, including Commando units specialised in amphibious landings. HMS Dinosaur, near Troon, was the headquarters for tank landing craft training operations.

 
Dieppe

 

On 10 August 1942, commandos supported the Canadian amphibious landing at Dieppe, France, by destroying German artillery emplacements at Varengeville, west of Dieppe. While their mission was a success, the attempt to capture the port was an expensive failure with heavy loss of life. The Allies drew many valuable lessons from the raid, however, which would enable them to succeed two years later in the much larger D-Day landings.

 
D-Day

 

On 6 June 1944, commandos of the 1st Special Service Brigade landed on SWORD Beach, at Ouistreham. They successfully suppressed German opposition there before moving inland to link up with glider-borne troops of 6th Airborne Division holding the bridges over the Orne waterways. In this image, two Landing Craft Tank are seen lying in the surf and a DUKW amphibious truck can be seen disembarking from the westernmost vessel.