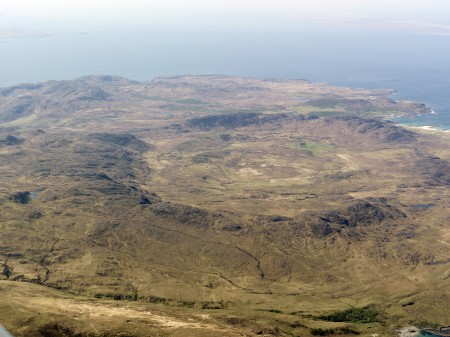 The images in this feature help to illustrate the geological use to which aerial images can be put, in the mapping of major rock features, both structural and lithological. All of the images featured below are from the All Scotland Survey, a complete aerial survey of Scotland flown over the summers of 1987 to 1989. The images are at a uniform scale of 1:24,000 and are predominantly black and white, with a band across central Scotland taken in colour.
Tertiary Volcanic Complex - Ardnamurchan

 

The sub-circular shape of the Tertiary volcanic complex at Ardnamurchan is visible in this aerial photograph. This igneous feature consists of a series of ring-dykes intruded into the surrounding rocks when the roof of a magma chamber collapsed. These dykes are in turn cut by cone-sheets, intruded into the surrounding rocks when pressure in the magma chamber was high. The ring-dykes are relatively thick and angle outwards with depth, while the thinner cones angle towards the centre.