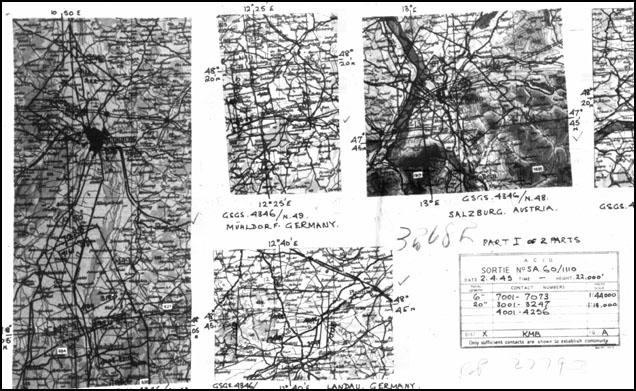 From December 1943 until the end of the Second World War, No. 60 Squadron, South African Air Force, was based at San Severo, Italy, and ranged across southern Germany, Austria, northern Italy and the Balkans in photographic reconnaissance versions of the de Havilland Mosquito aircraft.
One of the missions flown by this unit is represented by sortie SA60/1110; this mission took place on 2 April 1945 and covered several German airfields during a circuit of Austria and southern Germany. The mission records the destruction of airfield infrastructure by Allied bombers and the emergence of jet aircraft.
Manching, Upper Bavaria

 

 

This image shows Manching airfield, with several aircraft grouped by the hangars. A number of dispersal pens for aircraft are hidden in the wooded area south of the airfield, their locations revealed by the light-toned network of taxiways leading into the trees.

 

 

Visible north-west of the airfield at Manching is a 19th-century artillery fortification, one of a ring of 17 such forts protecting the city of Ingolstadt.

 
Neuburg, Upper Bavaria

 

In March 1945, Neuburg was home to several units equipped with the Me-262 jet fighter. The airfield was a priority target for the Allies and this image from April 1945 illustrates the almost total destruction of the airfield technical site. Surviving aircraft can be seen in dispersal areas located around the perimeter.

 
Leipheim, Swabia

 

Leipheim was an important aircraft development site and the Me-321 transport glider, Me-323 transport aircraft and Me-262 jet fighter were first flown here in 1942. At lower left of the image is a hardened aircraft bunker for Me-262 jet fighters.

 
Lechfeld, Swabia

 

This facility was used during the Second World War as a test airfield for the Messerschmidt works at Augsburg, located 10 miles to the north. As such, the technical area can be seen to have been heavily targetted by Allied aircraft. Dispersal pens for fighter aircraft can be seen along the perimeter track around the east side of the airfield.

 

Extending to the south of Lechfeld airfield is a sinuous taxiway with branches to dispersal pens housing Me-262 jet fighters.

 
Gablingen, Swabia

 

Originally a flying training airfield, Gablingen was used for testing the Me-163 Komet rocket-propelled fighter aircraft in 1941. In this image, aircraft are visible in dispersal pens parallel to the railway leading north from the airfield and parked in the open in fields to the south.

 

A US signals intelligence facility was developed on this site during the Cold War.
Landsberg, Upper Bavaria

 

This facility was used during the Second World War to train crews to fly the He-111 bomber aircraft. Although the technical area has been attacked and heavily damaged by the Allies, many of the bomb craters are seen to have been infilled, allowing operations to continue.