Supporting Operation TORCH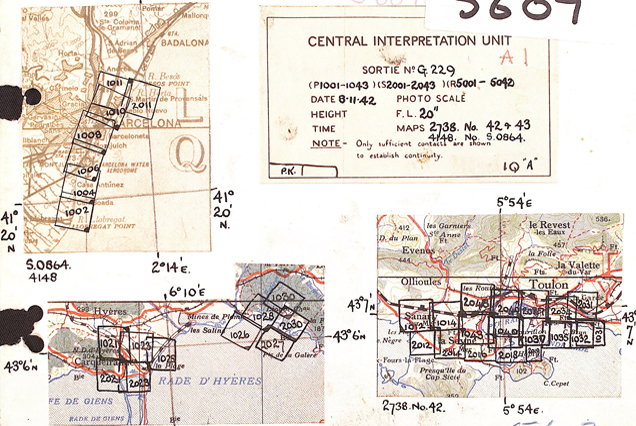 On 8 November 1942, the Allies launched Operation TORCH: a series of amphibious and parachute assaults along the North African coastline designed to sieze important strategic locations from Vichy French forces and prevent them falling into Axis hands. That same morning, a lone reconnaissance aircraft of 1PRU left Gibraltar on sortie G/0229 to take aerial photographs of the ports of Barcelona and Toulon, to assess the reaction of French and Spanish naval forces. This feature highlights the main locations covered.
Vichy France - Toulon Naval Base
| | |
| --- | --- |
| This image of Toulon harbour shows that the bulk of the Vichy navy was still in port on 8th November, with the battleship Strasbourg moored alongside 4 cruisers and 7 escort vessels at the Quais de Milhaud. | |
| This image of the eastern harbour shows two battleships in dry-dock and numerous escort and support ships moored in docks to east. | |
| Two large warships are visible in this image, moored off the coastline east of Toulon. The easternmost vessel has its boilers in steam and is probably preparing to cast off. | |
| This image shows very little aircraft activity at the French naval air station of Toulon-Hyeres, east of Toulon. | |
Spain - Barcelona
| | |
| --- | --- |
| On both the outward and return legs of its mission, the photo-reconnaissance aircraft passed over the docks of Barcelona. No warships are visible in this image, although one seaplane can be seen at its moorings in the southernmost basin. | |
Vichy French forces resisted the Allied landings at Casablanca, Oran and Algiers and fighting went on into the following day before a surrender was negotiated. Many French troops then chose to join the Allies. When Hitler subsequently ordered the occupation of Vichy France and the seizure of the naval vessels at Toulon, the warships were scuppered by their crews on 27 November.
The success of Operation TORCH meant that Axis forces in Tunisia and Libya were faced with fighting the Allies on two fronts, with General Montgomery's 8th Army to the east. Within 6 months, the Allies had driven German and Italian forces out of North Africa.