Using the search box
When you enter a term in the search box a query is run against our place names gazetteer; searching by Map will produce more accurate results. If a match is found, you will be presented with a grid of images with matching place names.  You can click on an image to view it. You also have the choice of:
viewing a grid results list of all of the images that appear in the viewport

downloading a KML file for the images, which you can then view in Google Earth

viewing a list of finding aids that intersect the geographical area showing in the viewport

searching all images for the keyword you entered 
In the search box you can enter place names, NCAP UNI image reference numbers or sortie references.
Filtering results
Once you have a set of results you can choose to "Refine your results".  This will open a panel that lets you refine by collections, date range, vertical or oblique images, or keyword.
Browsing the website
By Images - use the "Refine your results" function to narrow the number of images returned. You can filter by date or camera position (i.e. vertical or oblique). If you know the collection the images originate from, you can select this from the "Refine your results" function to narrow the search.
By Zoomable Map - zoom into the map to see the clusters break apart.  You can access images by click on the circles or blue pins.  You can click through the preview slideshow, or you can click on an image to access the full record.  You can use the "Refine your results" function to narrow the images. We hold tens of millions of images and it will take many years to digitise all of them. If there are no images covering your area of interest on the website, you can find their reference numbers by browsing the Finding Aids and then order copies to be made. 
By Finding Aids - You can browse a list of all finding aids in the site and filter them by date range.  To see the finding aids covering an area of interest, use the Browse by Map functionality to zoom into your area of interest and then click on the "Show findings aids in this area" link. 
We hold many thousands of finding aids and will be releasing these progressively in the coming months and years. We cannot guarantee the absolute accuracy of the ground coverage of individual photographs depicted on finding aids.
By Air Units - This page provides a listing of squadrons, units and companies involved in photographic reconnaissance and air survey operations, for which we have images on the website.  You can search for images that relate to these units.
By Country - You can browse a list of the countries covered by aerial photography held in our collections. The page for each country contains a short summary of our holdings and links to any images already online.
View our helpful videos for more tips
About our images
Most of the images held by NCAP are Vertical , taken with the camera pointing straight down, towards the ground. We also hold some Oblique images, taken with the camera pointing out of the side of the aircraft. When searching, you can filter your results by choosing to see Vertical or Oblique photographs.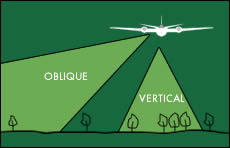 Vertical aerial photographs are normally taken with a 60% overlap along the line of flight, to allow stereo viewing of features in three dimensions. When looking at individual sorties on the website, you will see that one image covers much of the area seen in the next image in the sortie.

When using the Finding Aids, you will see that our holdings of non-UK imagery are catalogued to the boxes of 10-minutes of latitude and longitude they cover. Degrees are subdivided into minutes of latitude and longitude, where one degree square is 60 minutes x 60 minutes. As these boxes differ in size depending on where they are on the globe, some 10-minute boxes will have many sorties catalogued to them. To find an image of a particular place, you must look through all of the sortie plots returned for the 10-minute box in which your general area of interest falls. It is important to note that not all of these sorties will cover your specific area of interest within a particular box, however.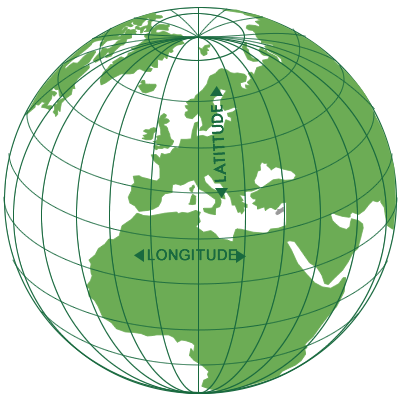 Our holdings of UK imagery are catalogued to the polygon showing the footprint of each sortie, or to the Ordnance Survey 1:50,000 scale mapsheet covered by each sortie. 
Purchasing subscriptions
Our website subscription allows you to access the zoomable versions of our aerial imagery our online finding aids. The finding aids include zoomable maps which show where photographs were taken and the area covered by each frame. They also show the frame numbers, so if we have not yet digitised a particular frame, and you wish to see it, you can order a copy of it by quoting the relevant sortie and frame number.  
Ordering an image
On each image record you will see a Buy button which allows you to purchase that image.  If you would like to order many images, please add the individual reference numbers of the images to the image order form.  An image reference number will look something like this: NCAP-000-000-023-031
Paid image search
You can also pay us to do your search for you.  Learn more about Paid Image Searches and the associated Guidelines.
Visiting us
Our Search Room is free to visit by appointment.  Learn more about our Search Room.
Zoom and pan all of the aerial images on our website at 300 ppi resolution, and all of our catalogued Finding Aids, with a subscription.
Finding aids show the geographic area covered by each photograph within a mission. Use them to identify and order copies of photographs that have not yet been digitised and uploaded to our website.
Subscriptions are available for Personal or Commercial/Institutional use.