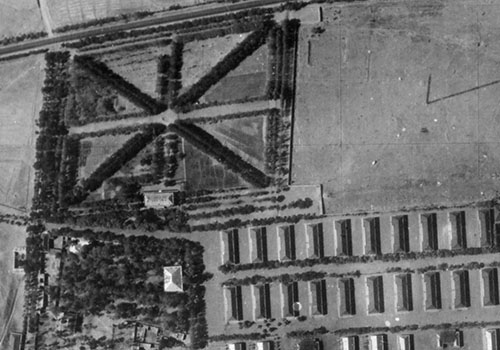 Occupied by the British during the Second World War, largely to protect the interests of the Anglo Iranian Oil Company and secure much-needed supplies of oil for the Allies, Iran was home to a plethora of British barracks and airfields. In October 1942, a Bristol Blenheim aircraft of 1434 (Photo Survey) Flight, Royal Air Force, based at RAF Habbaniyah, Iraq, was tasked to undertake an aerial photographic survey of the Iranian capital, Tehran.  
This feature presents a selection of the photographs taken during this survey. The photographs reveal the landscape of Tehran prior to its rapid expansion in the post-war years, and depict the scattering of barracks, military camps and airfields around the densely-packed streets of the city.
A formal garden laid out in the pattern of the Union flag, with two radio communications masts and accommodation huts adjacent, indicate the presence of a British military barracks and headquarters. To the south is a 19th-century fort.
The site of the modern-day Laleh Park was occupied in 1942 by a parade ground, complete with reviewing stand. The complex of large buildings to the south is now the Tehran University of Medical Science.

The present-day Mehrabad International Airport was a small military airfield in 1942. Accommodation and technical buildings were co-located within a boundary wall, while the open north wall was occupied by aircraft sheds, in front of which can be seen two aircraft. A third aircraft is visible, taxying off the east-west runway.

 

The numerous circular embanked structures arranged in linear patterns seen across the image are not bomb craters or defensive positions but the mouths of access shafts to qanat irrigation channels.

To the east of the airfield is the barracks at Akbar Abad. Although parts of this facility were still under construction in 1942, an artillery unit was in residence and several towed guns are visible in the north-eastern parade ground. 
The road bridge over a dry river bed shown in this image was situated north-west of Mehrabad Airport. At certain times of the year, the river current at this location flowed so strongly that the bridge abutments were in danger of being eroded and washed away. As a protective measure, the river banks upstream from the bridge have been reinforced with concrete.
Qasr-e Firouzeh palace is situated on the eastern edge of the city. In 1942 it was notable for its luxurious, and shady, ornamental gardens. A spiral garden, irrigated by a qanat system, is visible in the compound to the south.
The Imamzadeh Yahya district of Tehran, a residential area of tightly-packed streets and courtyard houses linked by narrow alleyways.
Shahr Park, Tehran, with Hasan Adad Square in the north-west corner of the image.
In western Tehran, Kamali Street loops around a sub-circular military barracks, with tree-lined avenues quartering the site into distinct areas of accommodation, offices and parade grounds.