The NCAP team are aerial photograph specialists who curate and develop one of the world's largest and most significant collections of aerial photography. Please use the Contact Us page if you would like to get in touch.

Allan has led the growth and development of NCAP since January 2002. A Town Planning graduate of 
Heriot-Watt University
, he worked in public service before his appointment to manage the collection, which was then based at 
Keele University
.  Working with the 
Ministry of Defence
 on the declassification of millions of aerial photographs, he has been responsible for greatly increasing accessibility and use of the collection. Through an entrepreneurial business approach - and despite the five-fold growth of the collection to more than 26 million images - operational and development costs are funded through commercial enterprise. The use of historical aerial photography by the European bomb disposal industry has been of strategic importance in achieving this.
Allan was co-author of the 2010 publication Above Scotland Cities.  In May 2013 the Random House Group published his book Operation Crossbow. In February 2014, English Heritage published Aerofilms: A History of Britain from Above, a book co-authored by Allan that features oblique aerial photography taken by the pioneering aerial-survey company.   Allan graduated with a PhD in Intelligence Studies from
the University of Edinburgh, in November 2016, that analysed the role of photographic intelligence during the Second World War.

Susan Hallsworth
Business Development Manager
Susan is responsible for driving the expansion of NCAP; creating and managing partnerships with a range of educational institutes, businesses, agencies and organisations within the UK and internationally. Her role includes overseeing sales and marketing.
Previously Susan worked within the private and public sectors focusing on business growth and led joint ventures and major projects for national and international organisations, specifically in property, construction, regeneration and the arts.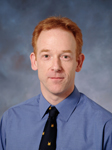 Kevin McLaren
Kevin is an Imagery Analyst with sixteen years experience working with aerial photography. A graduate in geology from theUniversity of Edinburgh, he began his career in aerial photography following the transfer of the Scottish Office Air Photographs Unit to RCAHMS in 1993. Experienced in the cataloguing and plotting of aerial photography, he has co-authored three volumes on aerial photography of Scotland.
Kevin qualified as an imagery analyst at the UK armed forces Joint School of Photographic Interpretation. He undertakes imagery interpretation work and leads the development of content for the NCAP website.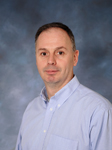 Alan Potts
A
lan is a technical photographer with 25 years work experience in the public and private sectors and is responsible for the long-term programmes of digitisation at NCAP, that make our historical aerial photography accessible. Skilled in film processing techniques, fine art copying and the operation of rostrum cameras, Alan is the winner of a Kodak Gold Award. An expert in digital imaging techniques and image enhancement - to exhibition and publication standard - his work features in the award-winning Above Scotland and Above Scotland Cities publications that showcase NCAP aerial photography.
Alan was central to the design and engineering of bespoke rostrum camera systems used for the NCAP surrogate digitisation programme, which makes imagery accessible on the NCAP website. He is responsible for managing programmes of ultra-high resolution digitisation using NCAP's suite of photogrammetric scanners. Alan has a lifelong interest in the history of flight and aviation photography.

Sam manages the workflow for processing large-volume orders for ultra-high resolution photogrammetric images and on-demand digitisation services. 
He joined NCAP in 2010 and has created most of the digital imagery featured on the NCAP website, especially those images copied for, and featured in, the BBC documentaries 
Operation Crossbow
, broadcast in May 2011, and
D-Day: The Last Heroes
, broadcast in May 2013.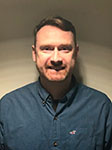 Mark Saunders
Sales Executive
Mark is responsible for driving and developing NCAP sales, managing and developing new accounts and supporting business development activities in the UK and overseas. His role also includes overseeing the customer service and ordering procedures for NCAP.
Prior to joining NCAP in 2017, Mark worked in the Historic Environment Scotland Visitor Service Operations and Travel Trade sales teams for 10 years.

David Buice
Records Coordinator
David coordinates the movement of analogue records, boxes of prints and tins of film, between storage, preservation and processing facilities. He carries out preservation work on historical aerial prints and films to prepare them for digitisation.
David previously served in the US Army in Germany and Iraq, and also worked as a professional blacksmith in Germany and the UK before joining NCAP in 2012.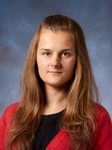 Ruta Gauld
Digital Imaging Coordinator
Ruta is responsible for processing customer orders for images and the physical preservation, digitisation and cataloguing of aerial photography and finding aids. A history graduate from the Vilnius Pedagogical University, Lithuania, Ruta has worked at NCAP since 2008. Ruta has created a large proportion of the geographical centrepoint information which powers searches for imagery on this website, allows the aerial imagery to be geographically linked to place name gazetteers, and viewed in Google Earth.

Anne Gumbrell
Cataloguing Coordinator
Anne is responsible for the cataloguing of aerial imagery, finding aids and associated records held by NCAP. She prepares this data for upload to the NCAP website, enabling our audience around the world to access the aerial imagery in our care. Anne also undertakes searches of our catalogued holdings to service customer requests for Paid Image Searches. She joined NCAP in 2015, after completing an MSc in Information and Library Studies at Robert Gordon University.
Anne studied art and photography at Edinburgh College of Art and has catalogued historical archive material at the National Museums of Scotland. She also has six years experience of commercial digitisation and image processing in the private sector. 

Stephanie Kirkland
Sales Coordinator
Stephanie is responsible for coordinating all aspects of customer orders and for supporting the sales and business development of NCAP. She responds to customer enquiries for information about our services and administers bookings for our Search Room.
Previously, Stephanie studied Ancient History at the University of Edinburgh and joined NCAP in 2017.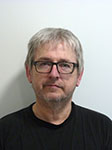 Calum Davidson
Digital Imaging Technician
Calum is responsible for the digitisation of historical aerial imagery to service commercial orders. He joined NCAP in 2017, from the British Geological Survey where he had worked on the digitisation of records relating to hydrocarbon and geophysical surveys.
Previously, Calum studied Natural History & Wildlife Biology at Anglia Ruskin University.

Catherine Mylles
Digital Imaging Technician
Catherine is responsible for the digitisation of historical aerial imagery to service commercial orders. She joined NCAP in 2015, after completing a Masters Degree in Landscape and Environment History at the University of Edinburgh.
Previously, Catherine studied Fine Art at Duncan of Jordanstone College of Art and Design and the University of the Highlands and Islands, and worked in bookshops in Dundee, Oxford, York and Belfast.