Hiding Scotland's wartime industries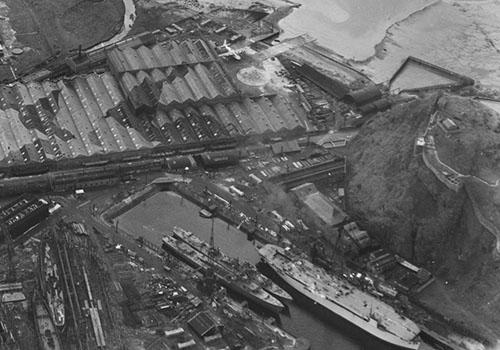 The attempts at hiding some of Scotland's most strategically important targets from air attack during the Second World War - from factories and power stations to gasworks and fuel tanks - are clear in many of the photographs in this feature. Over 650 aerial photographs of locations in Scotland were taken between 1940 and 1943 for No.1 Camouflage Unit, a specialist military unit set up to check and assess the effectiveness of camouflage schemes on industrial buildings and airfields. These images are all available to view on this website.
The aircrews of No.1 Camouflage Unit were drawn from the survey arm of the Aircraft Operating Company and reported to the Camouflage Directorate, based in the Regent Hotel, Royal Leamington Spa. It was here that new camouflage schemes for buildings, ships and aircraft were designed by teams of artists, designers, draughtsmen, photographers and technicians.
Since the locations of most major industries were well known before the war, however, elaborate paint schemes designed to hide a factory from enemy aircraft could be counterproductive. While they may have fooled a low-flying raider long enough for him to overshoot the target, they rarely eluded the photographic interpreter. Once photographed by the enemy, camouflage could call attention to a place and mark it out as something worth hiding, and therefore valuable.
Ardeer explosives works

 

While duty-bound to assess the appearance of this Ayrshire explosives plant from the air, there is little that the Camouflage Directorate could have done to conceal a site of this size. Lying on a peninsula between two bodies of water and with a long history of production, this plant would have been well-known to German intelligence and relatively easy to find from the air.

 
Arbroath Open-air Pool

 

Camouflage paint schemes were enthusiastically applied to any large structures which could potentially aid enemy airmen to find their targets. At Arbroath, the distinctive shape and light-toned concrete of the open-air swimming pool were obscured and subdued by paint. By 1942, this was no longer maintained and had begun to fade on the floor of the pool. 

 
Top Secret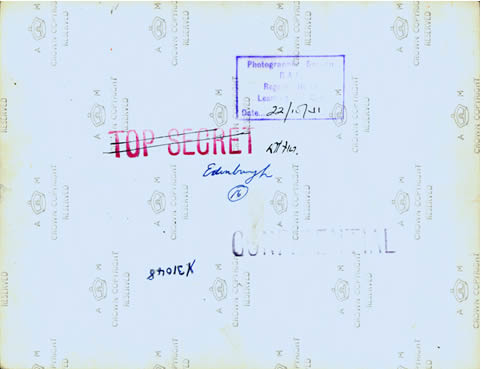 The back of a No.1 Camouflage Unit aerial photograph, showing that this image was once so important to national security that it was graded Top Secret; this security caveat was later downgraded to Confidential. Also present is the stamp of the RAF Photographic Section, Regent Hotel, Leamington Spa.