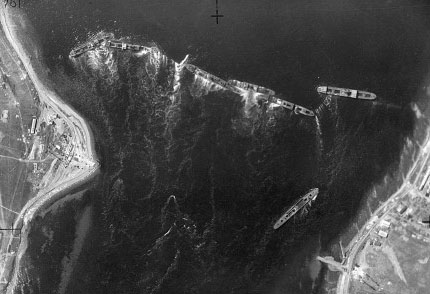 During the Second World photographic reconnaissance units based in Scotland were responsible for some of the most significant reconnaissance missions of the war. This included the famous sortie flown out of RAF Wick by Flying Officer Suckling that located the German battleship Bismarck in a Norwegian fjord and led to its sinking days later. To prepare for missions over occupied Europe, extensive training flights were made around the United Kingdom and over 6500 of the aerial photographs taken over Scotland are now accessible on this website.
The photographs were taken between 1940 and 1945 and contain unique images of Scotland at war. Highlights include commando training camps, merchant shipping, coastal defences and radar stations. These photographs were formerly held by M Section of the Allied Central Interpretation Unit, RAF Medmenham, who were responsible for aerial photographs of the United Kingdom during the Second World War.
Clydebank

 

This image shows the Singer Sewing Machine factory on 27 August 1942, at this time being utilised for war production. Tenements have been cleared in streets to the north and east of the works following bomb damage from German raids on Clydebank during 1941.